4th issue of ICAR is out!
Posted on December 18th, 2020
Click below to download it in open-access:

>>>Download 4th issue of ICAR<<<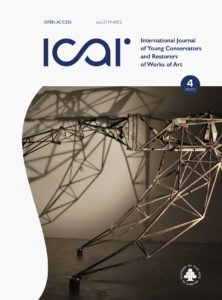 Dear Readers,
We are pleased to present you the 4th issue of ICAR. It contains 20 papers on a variety of topics concerning care for cultural heritage: conservation-restoration practice, documentation, art history, chemistry and archaeology. We congratulate the Authors whose papers passed the selection and review process, and bid thanks for your patience and trust during these difficult times.
Year 2020 is the year of changes. We had to re-evaluate the way we perceive the world and organise our lives. A huge part of our social, educational and professional activities takes place online. In these unprecedented circumstances, when access to libraries and possibilities of organising meetings, workshops and conferences are limited, the role of open access journals like ICAR will only be growing. We strive to provide you best-quality research papers and maintain our mission of promoting young professionals in the field of care, conservation and restoration of cultural heritage. Our work during the pandemic has not ceased.
In the past year, also ICAR has undergone changes. In 2020, two of the Founders of the Journal – Sylwia Popławska (vice Editor-in-Chief and Technical Editor) and Piotr Popławski (Secretary) are finishing their involvement in the Editorial Board. Thank you for your passion and hard work in developing ICAR. Your input and our common effort made ICAR what it is today – an established international academic journal. Best of luck with your current and future enterprises!
We wish our Readers a good reading experience. Hopefully, we will all be able to "meet" on the pages of ICAR next year!
Anna Kowalik
Editor-in-Chief
Anna Konopko
Deputy-Editor-in-Chief



Anna Konopko
---
New issue of ICAR coming in December 2020
Posted on November 24th, 2020
Dear Authors and Readers, stay tuned for the 4th issue of ICAR in 'December 2020!
It will be available in open source at the website (Resources/Issues).
Anna Konopko
---
Issue No 3/2019: ICAR x ENCoRE – Open Access
Posted on September 20th, 2019
Click issue's cover to download in open access: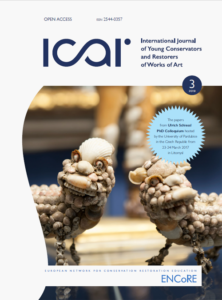 Special issue created in collaboration with the European Network for Conservation-Restoration Education features papers from the Ulrich Schliessl PhD Colloquium hosted by the University of Pardubice on 23-24 March 2017 in Litomysl
CONTENTS

HANA BILAVČÍKOVÁ, VÁCLAVA ANTUŠKOVÁ, RADKA ŠEFCŮ, VÁCLAV PITTHARD, LENKA ZAMRAZILOVÁ
Binding Media in Tempera Paintings by Czech Landscape Painters at the End of the 19th Century

RITA LUCÍA AMOR GARCÍA
Strategic Analysis for the Conservation of Graffiti and Aerosol Art: A Study of Strappo as a Safeguard Measure

MANON D'HAENENS
The Role of Conservators: An International Survey on Conservation Within Contemporary Art Collections

MATEUSZ JASIŃSKI
The Painting Techniques and Technology of Caravaggio's Followers

JOHANNA RUNKEL
Preservation and Access: Applied Collection Care in the Neukloster Monastery

MONIKA SUPRUNIUK
Kazimierz Prószyński and the 'Oko' 12 cm Film Amateur Camera – Obsolete Media Preservation and Presentation Project


Anna Konopko
---
Issue No 2/2018: ICAR – Open Access
Posted on March 20th, 2018
Click issue's cover to download in open access: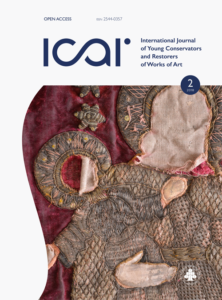 CONTENTS
WHY WAS MY PAPER REJECTED?
Guidelines for writing a research article by William Wei and Anna Kowalik

TABATHA BARTON
The Use and Suitability of Thermoplastics in Conservation and Restoration

ANA BRAAMCAMP DE FIGUEIREDO, MARIA AGUIAR
The lining of canvas paintings with seams

ESTELLE BRUNET
Building a museum to conserve art in the Himalayas: My Matho Museum Project experience

AGNIESZKA DEFUS
The Gap between Scientific and Historic Research in the Field of Cultural Heritage – can this be bridged?

MACIEJ GAWIŃSKI-BRYŁA, IRAIA ANTHONISEN-AÑABEITIA (supervisor)
Reintegration of Monochrome Paintings by Transfer Techniques of Ink-jet Prints

PETRA JUVAN, MARJETA KLEMENCIC, BOJ NUVAK, NEŽA TOPLAK, KSENIJA CERCE, KATJA KAVKLER, NADA MADŽARAC, TAMARA TRCEK PECAK
An Interdisciplinary Approach to Interviewing Contemporary Artists: Interviews with Four Slovenian Painters

KAROLINA KOMSTA-SŁAWIŃSKA, MAŁGORZATA PRONOBIS-GAJDZIS (supervisor)
Contemporary Trends in the Field of Conservation of Historic Codices

ANNA KONOPKO, MONIKA STACHURSKA (supervisor)
"Interpretative" Reconstruction – The Case of a Baroque embroidered and painted Dominican Processional Banner from Janów Lubelski, Poland

ALEKSANDRA KOZIOŁ, IWONA SZMELTER (supervisor)
Forgotten – Discovered; Problems and Topics regarding Conservation and Restoration of Alina Szapocznikow's Polyester Sculpture Souvenir

MARZIA LODDO
Museum Storage Facilities: what's next?

KALINA MARZEC
Conserving Rust: Understanding Material and Author's Technology. Conservation of Alina Szapocznikow's Bird

ŁUKASZ WOJTOWICZ
Cooperate, educate and preserve. The "Odrzechowa Secrets" Project – social aspects in heritage preservation


Anna Konopko
---
Issue No 1/2017: ICAR – Open Access
Posted on May 14th, 2017
Click issue's cover to download in open access: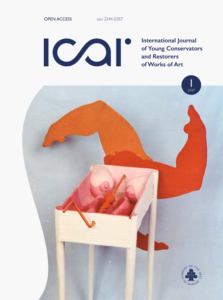 CONTENTS
ABOUT ICAR
FOUNDERS OF ICAR
SYLWIA POPŁAWSKA
A few words about the Faculty of Conservation and Restoration of Works of Art in the Academy of Fine Arts in Warsaw, Poland

YUQI CHOCK
A preliminary investigation on the compression and elasticity of balsa and jelutong wood fills in oak panels

ELENA CILIBERTO
Insights and reflection into retouching of synthetic emulsion paint: Investigating the effect of light and solvents on three paint colours.

SERENA DI GAETANO
The restoration of two stone statues with traces of polychrome: study of a non-invasive reconstruction

VINCENT DION
Borane tert-butylamine complex: practical research on its use to treat paper materials

SERENA FRANCONE
Mario Agrifoglio's Convergenze. conservation issues of blacklight paintings

FRANCESCA GASPARETTO
Methodological contributions to conservation and restoration of an inhabited interior. The case study of the University Campus by Giancarlo De Carlo in Urbino

ALEXANDER HABGOOD
Click to Respawn? Accepting video games as cultural heritage

OSKAR HANUSEK, KATARZYNA ŚWIERAD
The final step that could destroy an artwork. The challenge in displaying meaning and intent: preserving the artistic legacy of Jerzy Bereś and Maria Pinińska-Bereś

ANNA KONOPKO
Cleaning of two contemporary sculptures by Mirosław Bałka: Bitch (1988) and Clean Doggy (1986)

FLAVIA PUOTI
Conservation and study of ethnographic materials: two Amharic shields made of leather and metal from the national prehistoric and ethnographic museum "Luigi Pigorini"
Anna Konopko
---