ISSUES
Posted on March 24th, 2016
Current ISSN for online issues: ISSN 2719-6852
Click issue's cover to download in open access:

Issue No 4/2020: ICAR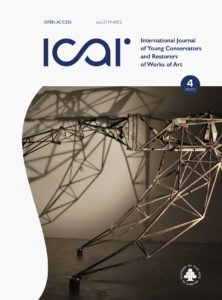 CONTENTS:
9 THE PRESTIGIOUS COMPETITION FOR THE BEST DIPLOMA IN CONSERVATION AND RESTORATION OF WORKS OF ART IN POLAND
By Michał Matuszczyk, PhD, Dsc, ProfTit

29 ALICE CAMOLI, supervisors: ALESSANDRA CARRIERI, ALESSANDRO ERVAS
Protection and meaning: reflections on the role of surfaces of outdoor painted sculptures and their conservation

41 KRILEDJAN ÇIPA, KLEJDI ZGURO
Excavation and Preliminary Curative Conservation of an Iron Spear from Pilur, Albania

51 KELLY CONLIN supervisors: ALLISON MURRAY, ROSALEEN HILL
Gel-based Treatment for Iron Gall Ink Corrosion Halos

65 ESTELLE DE BRUYN, promoters: MARIANNE DECROLY, BERNARD DEPREZ
A web platform for designing sustainable museum storage

77 JOANNA DZIEWANOWSKA-STEFAŃCZYK, supervisor: MONIKA JADZIŃSKA
Poetry of objects: Protection of Władysław Hasior's legacy using the example of conservation of the assemblage Julia at the Tatra Museum in Zakopane

89 ABDELAZIZ ELMARAZKY, EMAM ABDALLAH, OSAMA ABOELKHEIR, HUSSEIN KAMAL AND ANWAR RASHED
Diagnostic Techniques of Miniature Hoes discovered in Tutankhamun's Tomb

105 SOPHIE LEI
Installations' reinterpretations: a room for production history

115 MAJA SUCEVIĆ MIKLIN
Choosing the right gap filler for reconstruction of a wooden support coated with epoxy resin

129 SONIA MILEWSKA, supervisor: GRAŻYNA KORPAL
Reviving the Senster – restoration of an interactive, cybernetic sculpture by Edward Ihnatowicz

139 PATRYCJA MINDYKOWSKA
Conservation Process of the Canvas Painting pegged to Wooden Boards: a Case Study of the Last Supper from the Museum of Warmia and Mazuria in Olsztyn

157 JAN PANTUŁA
Architectural Studies and Conservation Issues of the Orthodox Church in Chyrzynka, in the Context of Wooden Uniate Churches in Podkarpacie

173 FLAVIA PARISI, ROSARIO LLAMAS PACHECO
Interdependence of Conservation and Education: three interactive artworks by Piero Gilardi

189 MANUEL J. H. PETERS
Imaging and conservation strategies for archaeological iron objects

205 ZOË RENAUDIE
The world of Feux pâles: An exhibition put to the test of conservation

219 MAGDALENA SKARŻYŃSKA supervisor: ALEKSANDRA SULIKOWSKA-BEŁCZOWSKA
The Transformation of Orthodox Churches in Lemko, Poland, into Roman Catholic Churches and the Effects of this on their Interior Design

237 PAULINA STASZKIEWICZ, supervisors: ANNA DOROTA POTOCKA, KATARZYNA GÓRECKA
At the Well – Where art conservation meets investigation

251 PAULA KARINA ŚWITUSZAK, supervisors: JOANNA M. ARSZYŃSKA, JUSTYNA OLSZEWSKA-ŚWIETLIK
Turning back time: Study, conservation, and exhibition of a XVII-century double-sided clock face

264 MARÍA SILVANA ZAMORA, BEATRIZ O´DONELL
The house museum environment: A methodology for evaluation of hygrothermal conditions



Issue No 3/2019: ICAR x ENCoRE – Open Access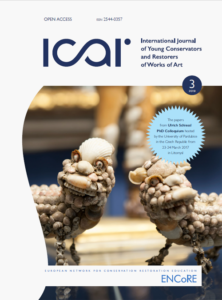 Special issue created in collaboration with the European Network for Conservation-Restoration Education features papers from the Ulrich Schliessl PhD Colloquium hosted by the University of Pardubice on 23-24 March 2017 in Litomysl
CONTENTS
HANA BILAVČÍKOVÁ, VÁCLAVA ANTUŠKOVÁ, RADKA ŠEFCŮ, VÁCLAV PITTHARD, LENKA ZAMRAZILOVÁ
Binding Media in Tempera Paintings by Czech Landscape Painters at the End of the 19th Century
RITA LUCÍA AMOR GARCÍA
Strategic Analysis for the Conservation of Graffiti and Aerosol Art: A Study of Strappo as a Safeguard Measure
MANON D'HAENENS
The Role of Conservators: An International Survey on Conservation Within Contemporary Art Collections
MATEUSZ JASIŃSKI
The Painting Techniques and Technology of Caravaggio's Followers
JOHANNA RUNKEL
Preservation and Access: Applied Collection Care in the Neukloster Monastery
MONIKA SUPRUNIUK
Kazimierz Prószyński and the 'Oko' 12 cm Film Amateur Camera – Obsolete Media Preservation and Presentation Project



Issue No 2/2018: ICAR – Open Access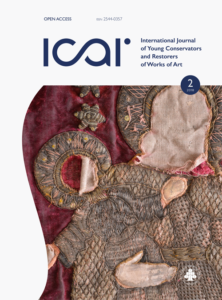 CONTENTS
WHY WAS MY PAPER REJECTED?
Guidelines for writing a research article by William Wei and Anna Kowalik
TABATHA BARTON
The Use and Suitability of Thermoplastics in Conservation and Restoration
ANA BRAAMCAMP DE FIGUEIREDO, MARIA AGUIAR
The lining of canvas paintings with seams
ESTELLE BRUNET
Building a museum to conserve art in the Himalayas: My Matho Museum Project experience
AGNIESZKA DEFUS
The Gap between Scientific and Historic Research in the Field of Cultural Heritage – can this be bridged?
MACIEJ GAWIŃSKI-BRYŁA, IRAIA ANTHONISEN-AÑABEITIA (supervisor)
Reintegration of Monochrome Paintings by Transfer Techniques of Ink-jet Prints
PETRA JUVAN, MARJETA KLEMENCIC, BOJ NUVAK, NEŽA TOPLAK, KSENIJA CERCE, KATJA KAVKLER, NADA MADŽARAC, TAMARA TRCEK PECAK
An Interdisciplinary Approach to Interviewing Contemporary Artists: Interviews with Four Slovenian Painters
KAROLINA KOMSTA-SŁAWIŃSKA, MAŁGORZATA PRONOBIS-GAJDZIS (supervisor)
Contemporary Trends in the Field of Conservation of Historic Codices
ANNA KONOPKO, MONIKA STACHURSKA (supervisor)
"Interpretative" Reconstruction – The Case of a Baroque embroidered and painted Dominican Processional Banner from Janów Lubelski, Poland
ALEKSANDRA KOZIOŁ, IWONA SZMELTER (supervisor)
Forgotten – Discovered; Problems and Topics regarding Conservation and Restoration of Alina Szapocznikow's Polyester Sculpture Souvenir
MARZIA LODDO
Museum Storage Facilities: what's next?
KALINA MARZEC
Conserving Rust: Understanding Material and Author's Technology. Conservation of Alina Szapocznikow's Bird
ŁUKASZ WOJTOWICZ
Cooperate, educate and preserve. The "Odrzechowa Secrets" Project – social aspects in heritage preservation



Issue No 1/2017: ICAR – Open Access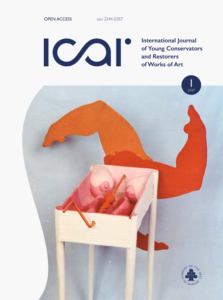 CONTENTS
ABOUT ICAR
FOUNDERS OF ICAR
SYLWIA POPŁAWSKA
A few words about the Faculty of Conservation and Restoration of Works of Art in the Academy of Fine Arts in Warsaw, Poland
YUQI CHOCK
A preliminary investigation on the compression and elasticity of balsa and jelutong wood fills in oak panels
ELENA CILIBERTO
Insights and reflection into retouching of synthetic emulsion paint: Investigating the effect of light and solvents on three paint colours.
SERENA DI GAETANO
The restoration of two stone statues with traces of polychrome: study of a non-invasive reconstruction
VINCENT DION
Borane tert-butylamine complex: practical research on its use to treat paper materials
SERENA FRANCONE
Mario Agrifoglio's Convergenze. conservation issues of blacklight paintings
FRANCESCA GASPARETTO
Methodological contributions to conservation and restoration of an inhabited interior. The case study of the University Campus by Giancarlo De Carlo in Urbino
ALEXANDER HABGOOD
Click to Respawn? Accepting video games as cultural heritage
OSKAR HANUSEK, KATARZYNA ŚWIERAD
The final step that could destroy an artwork. The challenge in displaying meaning and intent: preserving the artistic legacy of Jerzy Bereś and Maria Pinińska-Bereś
ANNA KONOPKO
Cleaning of two contemporary sculptures by Mirosław Bałka: Bitch (1988) and Clean Doggy (1986)
FLAVIA PUOTI
Conservation and study of ethnographic materials: two Amharic shields made of leather and metal from the national prehistoric and ethnographic museum "Luigi Pigorini"
webmaster
---